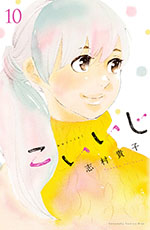 Title: Koi-iji: Love Glutton
Original Title: こいいじ (Koiiji)
Author: Shimura Takako
Publisher: Kiss
Category: Josei
Genre: Slice of Life, Romance
Status in Japan: 10 volumes, complete
Scanlation Status: Complete
Scanlator: Megchan's Scanlations + Fugacious Fella
More Info: Baka Updates
Read Online: MangaDex
Summary: 31-year-old Mame has been in love with her childhood friend Souta ever since she can remember. Despite multiple rejections, her love has stayed constant. It's become a habit more than anything, but is it one she'll ever be able to break and get on with her life?
Volume 1 (5/31/16)
Volume 2 (10/24/16)
Volume 3 (3/21/17)
Volume 4 (8/19/17)
Volume 5 (12/22/17)
Volume 6 (5/28/18)
Volume 7 (10/29/18)
Volume 8 (3/29/19)
Volume 9 (8/25/19)
Volume 10 (2/28/20)
Chapter 46: Somewhere in Time (9/22/19)
Chapter 47: Nights in Rodanthe (11/29/19)
Chapter 48: Love Story (12/30/19)
Chapter 49: The Notebook (1/18/20)
Chapter 50: Pretty Woman (2/28/20)