Although this series has been on indefinite hiatus in Japan for the past two years, I feel like this "final" chapter comes to a pretty natural stopping point even if it never starts up again. And if it does, I'll be checking the publisher's website regularly just as I do now, so I'll be there to pick up scanlating.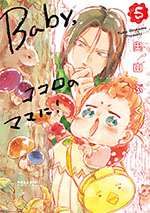 Title: Baby, Kokoro no Mama ni!
Original Title: Baby, ココロのママに! (Baby, Kokoro no Mama ni!)
Author: Okuyama Puku
Publisher: Polaris Comics
Category: Shoujo
Genre: Humor, Slice of Life
Status in Japan: 5 volumes, on hiatus
Scanlation Status: Complete
Scanlator: Megchan's Scanlations
More Info: Baka Updates
Read Online: MangaDex
Summary: 19-year-old Roji Shizuru has a crush on a fellow university student, Nana, but there always seems to be complications when he tries to get closer to her. For one thing, he's afraid his hot friend Tachibana Masaki will steal her. Beyond that, the main complication comes from the interference of children, specifically one odd child called Maida Kokoro, who keeps clinging to Shizuru and calling him "mama".
Chapter Summary: And they all lived happily ever after…
Chapter 26: The Summer of Our Youth
And here's a full volume download for those who want it.
Please consider donating to help cover server costs and the cost of buying manga: